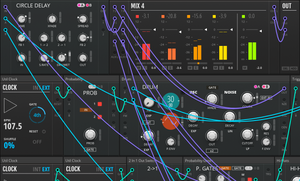 Unfiltered Audio
Euro Reakt for Reaktor 6.3+
Sale price Price $59.00 Regular price $99.00
SALE! Save 40% during Black Friday.
NOTE: To use every included Rack, make sure to also pick up a copy of Euro Reakt - Free Edition, which includes 18 Blocks not found here and additional Racks to explore!
Michael Hetrick's instant classic Euro Reakt has received a full upgrade for Reaktor 6.3! This comprehensive collection of 140 Blocks now has front-panel patching support, Rack support, NKS support, and 100 example Racks to get you started.
Euro Reakt was initially launched the same week as Reaktor 6 and quickly reached the top 5 most-downloaded Reaktor User Library posts of all time (out of a collection of over 5,500 downloads)! It is additionally in the top 10 highest-rated.
Euro Reakt brings the intense creativity of hardware synth modules to software, focusing on cutting-edge oscillators, effects, and sequencers with attention paid to deep patching capabilities. You'll find flexible drum modules with synthesis capabilities that push beyond traditional analog emulation, many oscillator modules (including physical modeling, FM, microsound, and more), wild effects (vocoder, spectral compressor, wavefolder, low-pass gate, reverbs...), creative mixers (vector mixer, scanner, enhancer, upmixers, imagers), two modulation-friendly samplers, and a full roster of sequencers (probability switches, random gates, flip flop, boolean logic, burst generator, gate delay, the list goes on).
This download includes 100 example Racks with full NKS mapping and tagging (available in Komplete Kontrol or Maschine 2.8+). These Racks cover techniques like generative composition, algorithmic drum sequencing, modal synthesis, creative reverbs and delays, MIDI-controlled effects (like vocoding and frequency shifting), and more.
Euro Reakt contains the following Blocks:
Effects:
DYN - Spectral Compressor
EFX - Bitcrusher (Mono and Stereo versions)
EFX - Bitshifter
EFX - Chebyshev
EFX - Chebyshev Scanner
EFX - Circle Delay
EFX - Clipper (Mono and Stereo versions)
EFX - Comb Filter
EFX - Dattorro Verb
EFX - Entropy Filter
EFX - Freeverb
EFX - Frequency Shifter
EFX - JCVerb (FF and FB versions)
EFX - Low-Pass Gate
EFX - Quad Delay
EFX - Ring Modulator
EFX - Satrev Reverb
EFX - Saw Multiplier
EFX - Subharmonic Generator
EFX - Timbre
EFX - Vocoder
EFX - Wavefolder
EFX - Waveform Processor
EFX - Waveset
EFX - Waveshaper
Mixing
EFX - Contrast (Mono and Stereo versions)
EFX - Mono Widener
EFX - Stereo Widener + M/S Encoder
MIX - 2-to-4 Mix Matrix
MIX - 4-to-4 Mix Matrix
MIX - 8-way Scanner
MIX - Bit Mix 32
MIX - Bit Mix
MIX - Crossfader (Mono and Stereo versions)
MIX - DC Blocker (Mono and Stereo versions)
MIX - Flip Pan
MIX - Logic Mix
MIX - Panner
MIX - Vector Mix
UTL - Feedback
UTL - M/S Decoder
Modulation
MOD - AD Envelope and VCA
MOD - Quadrature LFO
MOD - Trapezoid Envelope and VCA
PRO - Exponent
PRO - Hold & Slew
PRO - Quad Mid/Max
PRO - Quad Ranger
PRO - Quad Rectifier
PRO - Trigonometric Shaper
PRO - Voltage Mirror
PRO - XY to Polar
Noise and Chaos
MOD - 2-op Chaos
MOD - 3-op Chaos
MOD - Chaotic 2D Attractors
MOD - Chaotic 3D Attractors
MOD - Gingerbread Chaos
MOD - Low Frequency Noise
MOD - Probability Noise
MOD - Triggered Noise
OSC - Brusselator
OSC - Dust Generator
OSC - Feedback Sine Chaos
OSC - FitzHugh-Nagumo Chaos
OSC - Multi-Noise
OSC - Spectral Noise
OSC - Tuned Noise
Oscillators and Generators
OSC - BPing
OSC - Clap
OSC - Comb Oscillator
OSC - Complex Oscillator
OSC - Decaying Sine
OSC - Drum
OSC - FM Oscillator
OSC - Fold Oscillator
OSC - Hi-Hats
OSC - Impulse Train
OSC - Karplus
OSC - Pulsar Oscillator
OSC - Resonating Bar
OSC - Resonating Wood
OSC - Rungler Oscillator Mk. 2
OSC - Sinc Train
OSC - Snare
OSC - Sync Oscillator
OSC - Toy Oscillator
OSC - Triple Bento
OSC - Triple Ring
OSC - Twin Peaks
Samplers
SAM - Stereo Sample Looper
SAM - Stereo Sample Scanner
 Sequencing and Logic
SEQ - Analog Shift Register
SEQ - Burst Generator
SEQ - Gate Delay
SEQ - Probability
SEQ - Probability Gates
SEQ - Random Gates
SEQ - Voltage Controlled Gates
SEQ - Voltage Storage
UTL - 1-in 2-out Switch
UTL - 2-in 1-out Switch
UTL - 8-way Switch
UTL - Accumulator
UTL - Analog to Digital
UTL - Binary Gate
UTL - Boolean Logic (2 and 3 input versions)
UTL - Comparator
UTL - Delta
UTL - Digital to Analog
UTL - Flip Flop
UTL - Gate Combiner
UTL - Logic Inverter
UTL - Rotator
Utilities
AUX - Lissajous Display
UTL - ES-5 Convertor
UTL - Manual Gates
UTL - Meta Control
UTL - Trigger Fixer