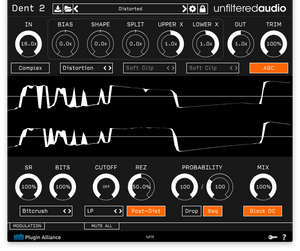 Unfiltered Audio
Dent 2
Sale price Price $24.00 Regular price $49.00
NOTE: A Dent 2 purchase automatically includes a license for Indent 2. You do not need to purchase Indent 2 separately.
Don't just distort it. Dent it.
It's time to go deeper with your sound – way deeper. Sure, you've made your tracks sound nice – balanced the levels, added just the right EQ – maybe you even performed all the music. But that's only the beginning. You want to get inside those waveforms, to tinker and explore, to realize your track's potential and draw out a sound that had only existed between your ears. It's time to get to know Dent 2.
The original Dent was a different kind of distortion plugin, made by Unfiltered Audio for every engineer and sound designer who had ever longed to manipulate the waveform on a molecular level. Now, with the release of Dent 2, audio control freaks rejoice, because Unfiltered Audio has gone subatomic. We're talking about a let's-sharpen-the-peaks-on-the-negative-half-of-the-waveform level of control! So if you're looking for sweet analog hardware emulation, you better look elsewhere, because the mad scientists at Unfiltered are digital to their core, and they know exactly how to turn those ones and zeros into magic.
When it hits Dent 2, your audio is first met with the plugin's sample reduction engine, which is freely adjustable and highly customizable. Next, the signal passes through as many as three different types of distortion in series, which are selectable from among ten unique clipping algorithms. Within these gain stages, users can add or subtract a DC bias, adjust the waveform's shape by flattening or sharpening it, and independently adjust the positive and negative halves of the waveform. Next comes the bitrate engine, which is a continuous and automatable parameter with six different bit-crushing algorithms. And finally, the audio passes through one of four different resonant filter types… that is, unless of course you opted to put the filter at the beginning of the signal path, instead of the end. Or maybe you opted to make its position dynamic – alternating on dotted eighth notes between placements at the beginning and the end… now the possibilities are really starting to unfold!
You'd be hard-pressed to dream up a wave-shaping technique that can't be customized by Dent 2 with exacting precision. Got a busted guitar amp that has an interesting sound? Now you can emulate it by adjusting the Probability controls so that Dent randomly applies distortion to only 70% of your signal's wave cycles. Or take it a step further by flipping on the Drop switch to silence all the undistorted segments of the waveform. Then set the clipping type to Tape, and the filter type to Low Pass, and now you're emulating the sound of an old cassette that's been chewed up by the tape deck.
And here's the best part: Almost all of these parameters can be modulated with Unfiltered Audio's unique and intuitive modulation system. Just assign a parameter by using a virtual patch cable, and then select from among eight different modulators, including LFOs, a randomizer, and even a user-programmable step sequencer. Use a sine-based LFO on the filter frequency to produce a conventional wah effect, or set the filter to Band Reject mode and apply the step sequencer, to create a Leslie effect with syncopated rhythms. Modulate DC offset with an input follower to make a snare drum track with high hat bleed sound like heavy machinery pounding away in a demonic assembly line.
Still not enough control for you? Check out one of Unfiltered Audio's newest additions to their modulation section: The ROLI Lightpad modulator. Thanks to Unfiltered's seamless integration with ROLI's innovative controller, you can use simple gestural controls to modulate Dent 2's parameters in real time. Using the Lightpad's unique three-dimensional interface, you can easily modulate multiple parameters, or even modulate other modulators. Apply a step sequence modulator to the sample rate, and then use your finger pressure to scale the amplitude of the modulator. While you're at it, apply the X and Y axes to the filter's Cutoff and Resonance parameters to "draw" filter envelopes on the Lightpad's surface in a live performance.
With Dent 2, the twist of a few knobs can create new and exciting sounds that keep your productions sounding fresh and contemporary. Don't just distort it. Dent it.
Features
Presets from The Crystal Method, Mirrorball Entertainment, Julius Dobos, and Toby Pitman (Air Studios)
Six distinctive bitcrushing algorithms (including a circuit-bent toy simulation!)
Randomize Preset feature—surprise and amaze yourself with sonic madness!
Ten clippers: Hard/Soft Clip, Wavefold, Overfold, Harsh Fold, Distortion, Tube, Tape, Gloubi, & Cubic
Complex Mode gives users the option to apply a different saturation algorithm to each of the three clipping stages
Continuously variable Bias and Split controls progressively add DC signal to one or both phases of the input signal
Two waveshapers independently adjust the amplitude of—and optionally invert—positive and negative phase components of your signal
Sound-warping Shape control progressively squares off or pinches waveform peaks
Probabilistic and Sequential Waveset (internal step-sequencer) processing creates dynamic rhythmic patterns for the distorted signal with a simple twist of two knobs
Unfiltered Audio's flagship modulation system provides eight freely assignable modulators (sine LFO, sawtooth/triangle LFO, square-wave LFO, input follower, sample-and-hold noise, macro control knob, step sequencer, and ROLI Lightpad) with drag-and-drop virtual patching to most of Dent 2's controls
Ability to minimize modulators by clicking on their icons
Ability to reset LFOs via a trigger input and control phase
Adjustable, analog-style multi-mode filter — with separate resonance control and four different filtering modes — can be placed pre- or post-distortion
Continuously variable SR control progressively degrades the sampling rate of processed signal by directly manipulating Dent 2's internal DSP
AGC (Automatic Gain Compensation) button
2x and 4x oversampling
Smooth wavesets option, available from within the Global Options menu
OpenGL toggle switch in the Option menu
Mix control provides parallel processing
Zoomed-in waveform display shows the shape of wave cycles after processing, guiding your control tweaks
Get crunchy analog-style tones like guitar pedal effects, or searing digital demolition like bitcrushing and sample rate reduction
Add attitude to vocals with input gain, square up bass tracks with the Shaper, obliterate samples with the Bits and Sample Rate reducers, and run it all through a screaming multi-mode filter
FREE full license for Indent 2 with the purchase of Dent 2
System Requirements
Supported Plugin Formats
AAX Native, AU, VST2, VST3
Supported Operating Systems
Mac OS X 10.8 through 10.11
Windows 7 through 10
Pro Tools 10.3.10 or higher or any VST/VST3/AU-compatible host running on a supported operating system
Mac
Intel CPU only (minimum 2 GHz recommended)
PC
Intel-compatible CPU with SSE2 instruction set (Pentium 4 compatible or higher; minimum 2 GHz recommended)
Basic
Display resolution: 1440 × 900px or 1280 × 960px or higher
Memory: 2 GB RAM
Documentation
Online Manual
Please note: All Unfiltered Audio plug-ins require a Plugin Alliance account for activation. For more information, click here.