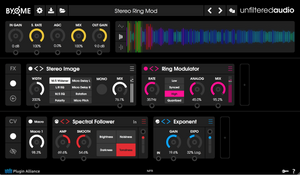 Unfiltered Audio
BYOME
Sale price Price $149.00 Regular price
Build Your Own Modular Effect!
Unfiltered Audio has returned with their most powerful plugin yet. BYOME ("Build Your Own Modular Effect") combines Unfiltered's endless modulation options with a collection of over 40 effect modules. Each effect has been meticulously engineered and tested for maximum impact without sacrificing usability.
Are you looking for a reverb to set your tracks apart? Check out Deep Reverb, a massive atmospheric goldmine with infinite echoes, custom tuned to make your synths sound epic. Want something more experimental? For the first time outside of the Rack Extension format, Unfiltered's classic Renoun Reverb is back, a modulated reverb that can cleanly morph between classic rooms and impossible geometries. Want even more? The Lofi Reverb module is inspired by the classic recordings of computer music pioneers and features ten separate reverb algorithms!
Many of Unfiltered Audio's legendary algorithms are represented here, from Sandman Pro's Instant Delay to Fault's Frequency Shifter. There are many new algorithms as well, including a powerful Phaser with up to 48 stages and variable harmonic all-pass tuning, a massive Granulator with up to +/- 4 octaves of pitch shifting and deep time shifting, and a Resonator Bank with four parallel comb filters for making any material harmonic.
BYOME isn't only for sound designers and musicians. It's an incredibly versatile mixing tool as well! Check out the Stereo Image module, a collection of eight classic mixing tricks with simplified controls (including a quick button to check what a mono mixdown would sound like). These algorithms include "Micro Pitch," a method for subtly pitch shifting both channels, "Micro Delay," "Mid/Side EQ," or the wild "Rotation," which maps your mix to an imaginary circle and spins it around in space. Need a Dynamics effect? Choose between the quick Auto Compressor, the deeper Compressor, the purpose-built Limiter, and the popular Noise Gate from G8. The Dynamics effects are compatible with external sidechains as well. We've also included a 3-Band EQ with a unique "Unity Gain" feature and a Panner with multiple pan laws. Want a deep Auto-Panner? Simply hook up the Panner to our incredible modulation system.
Speaking of the modulation system, we've added many new features and modules. For starters, the Input Follower can either monitor the main input or an external sidechain. Have you ever wanted to make a reverb that changes sizes in response to a kick? Now you can. We've extracted our critically-acclaimed analysis tools from our compressor, Zip, and turned it into the Spectral Follower module. Instead of only listening to a signal's amplitude, you can generate an envelope follower from features like Brightness and Noisiness.
To get you started, BYOME includes a massive library of over 400 presets spanning a number of genres and techniques. For the more experimentally minded, Unfiltered Audio has partnered with Ivo Ivanov of Glitchmachines for the creation of 70 cutting-edge presets designed for the production of futuristic drums and percussion.
Unfiltered Audio has created their masterpiece. Welcome to BYOME, your new effect environment.
Approved by the best
BYOME marks the start of our creative partnership with Ivo Ivanov of Glitchmachines. Ivo has worked with a number of leading audio companies, including Ableton, Native Instruments, and TipTop Audio. He has brought his expertise to an incredible bank of over 70 presets, each designed to work with BYOME's flexible and intuitive macro system. BYOME also welcomes the return of many Unfiltered Audio collaborators, including Richard Devine, ignatius, Empty Vessel, Peter "Glaca" Mohamed, and Toby Pitman.
Features
Over 400 presets, including large libraries from Ivo Ivanov (Glitchmachines), Richard Devine, and ignatius
Fully compatible with Native Instruments NKS (Native Kontrol Standard) with complete tagging for all 400+ presets!
Over 40 effect modules to choose from, spanning Delays, Distortions, Dynamics, Filters, Granular, Mixing, Modulation, and Reverbs
Many new Modulators to choose from, including Spectral Follower and Probability Gate
Supports external sidechain signals for Dynamics Effects and Follower Modulators
Presets for individual Effects and Modulators
Per-Section, per-Effect, and per-Modulator Randomization
Public Beta
Beta release with latest bug fixes and improvements is available here.
System Requirements
Supported Plugin Formats
AAX Native, AU, VST2, VST3
Supported Operating Systems
Mac OS X 10.8+
Windows 7 through 10
Pro Tools 10.3.10 or higher or any VST/VST3/AU-compatible host running on a supported operating system
Mac
Intel CPU only (minimum 2 GHz recommended)
PC
Intel-compatible CPU with SSE2 instruction set (Pentium 4 compatible or higher; minimum 2 GHz recommended)
Basic
Display resolution: 1440 × 900px or 1280 × 960px or higher
Memory: 2 GB RAM
Documentation
Online Manual
Please note: All Unfiltered Audio plug-ins require a Plugin Alliance account for activation. For more information, click here.