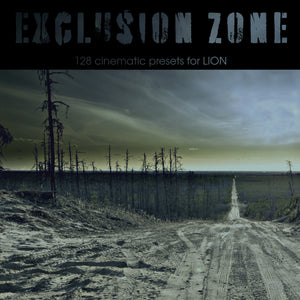 Unfiltered Audio
The Exclusion Zone for LION
Sale price Price $7.00 Regular price $15.00
Enter the Exclusion Zone
"​The Exclusion Zone"​ is a cinematic soundbank created by Oddiction for ​Unfiltered Audio's LION Synthesizer. The bank contains 128 presets created for Cinematic sound design and scoring. But it will also cater to those active in game audio or to anyone that wants to paint a dystopian landscape.
The sounds of the Exclusion Zone are inspired by the Chernobyl event and the amazing sound design for the HBO show by ​Hildur Guðnadóttir​. Expect a lot of complex, dark pads, rumbling drones and clusters. But also pluck and synth presets for chilling melodies, various sound effects and sounds suitable for jump-scares. All of these sounds are making use of LION's vast modulation capabilities. Each sound will also carefully make use of the Macro functions that LION offers. You will have extra possibilities to alter the sounds in an easy way from your favorite hardware controller. And shift back to the original sound by the turn of a knob.
What You Get
04 Braams
01 Bass
15 Clusters (evolving Ambient sounds)
17 Drones
17 Keys (ePiano, mallet type sounds)
01 Noodle (modular synth style patch)
23 Pads
08 Plucks
10 SFX (ambient SFX, jump-scares, siren, pulses)
32 Synths
Easy Installation
After purchase you will receive a download link for "The Exclusion Zone." After downloading, simply add the folder to your user preset directory and you will see them become available in LION.